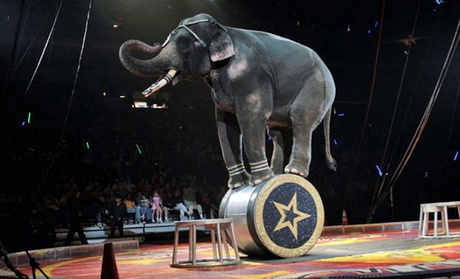 The SHRINE CIRCUS is THIS WEEKEND!
January 24-26, 2014
UNO Lakefront Arena
The Deal
$18 for one G-Pass to see the Shrine Circus (up to $30.50 value)
Where: UNO Lakefront Arena
Seating: lower level
Door time: one hour before showtime
Ticket values include all fees.
Under age 2 is FREE! (everyone ages 3 and up must have a ticket)
GET YOURS HERE!
Available Showtimes
Friday, January 24, at 7:30 p.m.
Saturday, January 25, at 11 a.m.
Sunday, January 26, at 6:30 p.m.
*************************************************************
So I did some research on this one...you can ALSO purchase tickets thru
Ticketmaster
There are 2 promo codes:
FREEPASS (gives you a FREE ticket when you buy one in the UPPER LEVEL)= $27.20 with fees ($13.60 each but UPPER LEVEL seats)
UPGRADE (gives you a buy one get one HALF off ticket in LOWER LEVEL) = $47.20 with fees ($23.60 each LOWER LEVEL)
So if you want to sit in the LOWER LEVEL, it seems that the
GROUPON deal
of $18 each is a better deal - if you don't care where you sit, and want to sit up higher, than the FREEPASS promo code seems to be ok!
***************************************************************
OTHER INFO:
In past years, they have given away a FREE boy and girl's bicycle at EVERY performance - simply enter to win by buying a program - MY DAUGHTER WON last year! I always thought it was "rigged" but we went home with a FREE bike!
Also - 1 hour before the show you can go on the floor and ride horses/elephants, etc...there is a fee so keep that in mind If you want to show up early (you can also do again at intermission)
You can buy toys, etc - I find they seem to show up after intermission with different toys - so try to convince your child to wait until the second half to make sure they pick the "perfect" toy...
The Shrine Circus is for a good cause and ticket prices are reasonable low, so they do have many other things going on at a cost...but overall the show is FUN and my kids loved it!
More info on the show itself can be found
HERE
(and FYI the free ticket drawing posted on their site is EXPIRED so you can sign up for future emails only if you enter)
****************************************************************************
If you like these deals, make sure to like

TIFFS DEALS

on facebook for more great deals!
This post may contain affiliate links