It's finally November! And that means the year is almost over and it is the perfect time to reflect on the things that mean the most to us - the things that we are GRATEFUL for!
Cents of Style is offering you the cutest Tshirt this weekend (thru 11/6) FREE with any $25 purchase on the site! I LOVE mine - I ordered the WINE color (also available in WHITE)
So I thought I would list out a few things I am GRATEFUL for:
1) MY KIDS. Without them, my life wouldn't be nearly as much FUN or EXHAUSTING - but I wouldn't have it any other way! Sometimes I get frustrated and everyday seems like Groundhogs Day...but I truly am BLESSED to have them
2) EDUCATION.
The pic above is 2 of my 3 children. My oldest is currently in college on an academic scholarship. Without that funding, she would not be able to receive the education that she needs to succeed in this world. Regardless of what she decides to do in her life, she will receive the tools she needs to survive independently for her adult life.
She is BLESSED. I am GRATEFUL.
3) COFFEE. Let's be honest, this is something I am very THANKFUL for. Without it, my day drags on and I appreciate that pick me up, energizing feeling that I get with the first sip!
4) WINE. I mean I did say I picked the Wine colored shirt...so I am GRATEFUL for the color - and the bottle! Sometimes I just need to chill with my girlfriends and a good glass of wine!
5. LIFE.
I am here. I am living. That is enough in itself to be
THANKFUL
for, not only mine, but the lives of all those that surround me. Everyone is placed in our lives for a reason, and we need to remember to be
GRATEFUL
for the moments that we can spend with them.
WHAT ARE YOU GRATEFUL/THANKFUL for? As a reminder, and just in time for THANKSGIVING, grab this FREE shirt with purchase and let the world know how BLESSED you are too!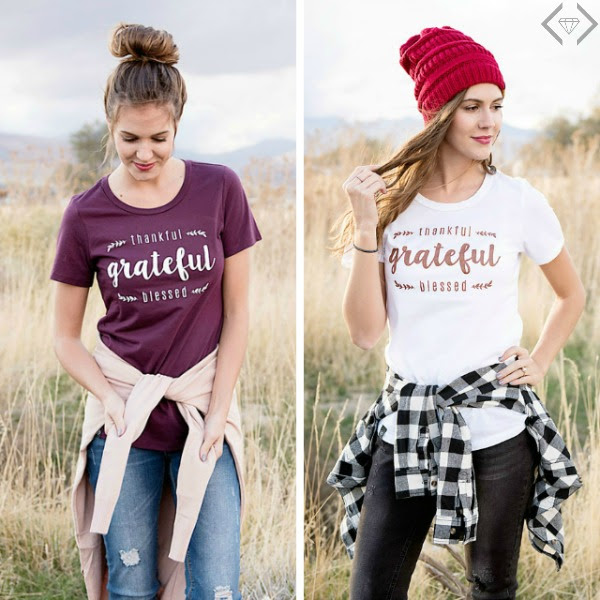 Shirt is TRUE TO SIZE - longer in length, super comfy and a great quality!
The code is
THANKFUL1
and it will make each t-shirt
FREE with any $25 purchase, + FREE SHIPPING!
Anything on the site is free game - any purchase that totals $25 qualifies for the free t-shirt.
Here are steps for purchase:
1- Find products you love (jewelry, clothes, shoes, whatever you have to have) and add it to your cart.
2- When the cart totals $25, add the Thankful Grateful Blessed shirt
3- Hit Checkout.
4- Put the code THANKFUL1 in the "Gift Card or Discount Code" Box to make your t-shirt FREE!
START SHOPPING NOW:
Fashion

Friday

Story -

11/4/16

- FREE Thankful T-Shirt with any $25 purchase w/code THANKFUL1
Most importantly, live your life through the moments that make you GRATEFUL...THANKFUL...and BLESSED!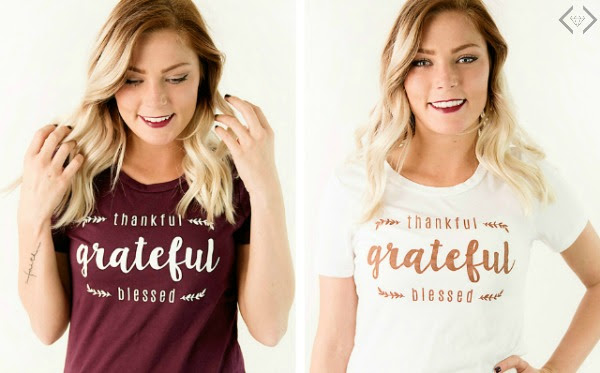 Tiff's Deals received complimentary product in exchange for blog post.
All opinions are 100% my own.
*************************
Want to know all the FREE (or close to it) events/activities
OR Get all the SCOOP on the deals I post FIRST -
************************************
If you like these deals, make sure to like

TIFFS DEALS

on facebook for more great deals!
This post may contain affiliate links