This week's FASHION FRIDAY deal is ATHLETIC WEAR for 50% off and FREE SHIPPING from Cents of Style!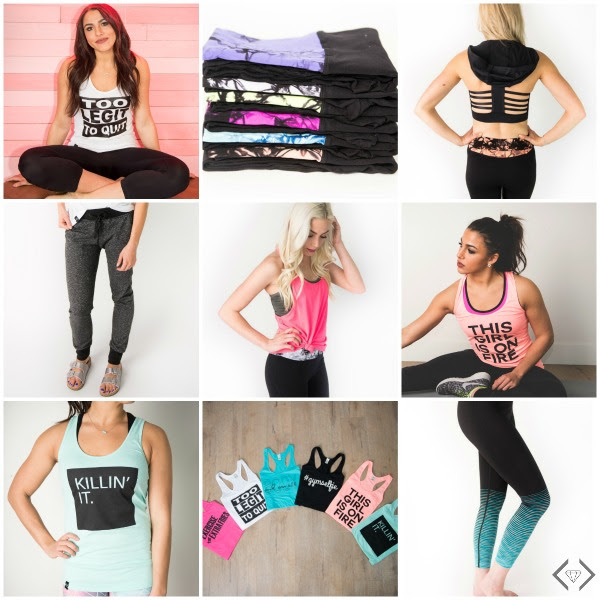 START SHOPPING NOW: Fashion

Friday

Story - 4/29/16 - Active Wear Collection 50% Off + FREE SHIPPING w/code ACTIVELOVE.
Coupon Code: ACTIVELOVE (
The code will take 50% off the marked price, with FREE SHIPPING.)
Keep an eye out for marbled yoga pants for $14.98 and workout tanks for $14.98.
I got the opportunity to try out a few pieces ahead of time and here is my review:
Let's be real here...I am that girl that goes to the gym a few times a week, but I really need to be on an episode of "What Not to Wear" - My typical gym clothes are tights (not workout pants!) which means that the person behind me gets a nice white butt view everytime I bend over (sorry!) - Why do I wear these pants normally? Because they are cheap! Athletic workout pants are $50-$60 a pair and that is out of this girl's budget! Let's talk shirts...it's typically a T-shirt that I got for free at some event I went to. It may be a little big - it may be a little small (again this matters to the person behind me who gets the see through black pants view)
So when Cents of Style said "Do you want to try out our athletic wear?"
I said "YES, PLEASE!"
I selected a pair of
CHRISTA HEATHERED YOGA CAPRIS
- grey athletic pants with hot pink accents on the side - Why capris? Because I will DIE of heat stroke at the gym with long pants on - trust me those 4 inches make a BIG difference in my temperature scale!
50% off
SALE PRICE THIS WEEK: $14.99 - definitely in my budget!
I also selected the Black
HEART WORKOUT TANK
razorback top that had a blue heart shape on it - I am not big into sayings and this seemed just perfect and simple enough for me.
50% off SALE PRICE THIS WEEKEND = $14.99!
I walked in to my STEP class (yes, they are still around from the 80s and are SUPER AWESOME!) and my GYM BUDDY said instantly
"YOU GOT NEW WORKOUT CLOTHES!"
I was shocked...I had NO idea that my gym clothing actually mattered or got noticed (I go for the workout - not for a meat market) but class hadn't even started and I had already received a compliment so I will take it!
The
pants had mesh at the bottom
- which REALLY helped me regulate my temperature (i.e. BREATH) during the class...
My thighs looked slimmer
in the mirror (BIG PLUS- yes!) because the material is the right material for a workout! I realized that my cheap thin material leggings were not helping me suck it all in and hold everything tight together, and
these HOT Pants made me feel HOT!
The
shirt was the right length
- no bare stomach when I lifted my arms up - and it fit just right! I have never really been a razorback kinda-girl (they don't usually give free razorback Tees out) but I think this is the new style for me!
CLASS BEGINS...6,100 STEPS LATER*....I am a HOT SWEATY MESS, but my pants are NOT! They keep the moisture off/away - the cold dripping "sweat walk of shame" including a soaked crotch area (don't act like you don't know!) to the car was NO LONGER happening for me!
I needed a Gym Makeover -
I needed the RIGHT clothes to wear to the gym
- I needed the
RIGHT PRICE
- and Cents of Style is offering that to all of you THIS WEEKEND ONLY! Check out all the styles available and find the RIGHT CLOTHES for you - all for HALF PRICE too!
Click here
SECOND STOP: COFFEE AND CARPOOL
*Let's not pretend like I am a super crazy workout person - Yes, I did the 1 hour class, I did 6,100 spastic steps, I sweated my butt off (the person behind me couldn't see through my pants this time!), and then I wore the same outfit later in the week to carpool and to get Coffee (you know the one loaded with extra sugar) - I mean
I DESERVED IT and I felt DAMN GOOD
while I drank it!
I received complimentary Workout attire from Cents of Style. However, all opinions listed above are 100% my own. If you purchase these items, you will LOVE them - but I cannot guarantee that they will make you lose weight, especially if you stop to get Coffee every morning like me- but you will still look great holding that coffee cup!
******************************
Want to know all the FREE (or close to it) events/activities going on around NOLA?
OR Get all the SCOOP on the deals I post FIRST -
************************************
If you like these deals, make sure to like

TIFFS DEALS

on facebook for more great deals!
This post may contain affiliate links