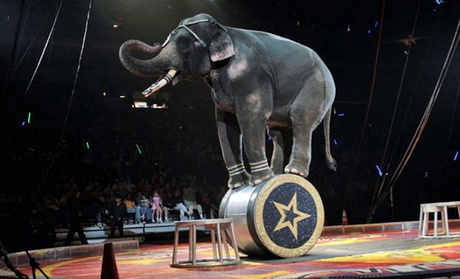 The SHRINE CIRCUS is COMING TO NOLA!
March 20-22, 2015
UNO Lakefront Arena
The Deal
$18 for one G-Pass to see the Shrine Circus (up to $30.75 value)
Where: UNO Lakefront Arena
Seating: lower level
Door time: one hour before showtime
Ticket values include all fees.
Under age 2 is FREE! (everyone ages 3 and up must have a ticket)
GET YOURS HERE!
BONUS: Use code TRIPLE to get 20% off = $14.40 per ticket! 3/5 only!
Dates and Times
Friday, March 20, at 7:30 p.m.
Saturday, March 21, at 11 a.m.
Sunday, March 22, at 6:30 p.m.
*************************************************************
So I did some research on this one...you can ALSO purchase tickets thru
Ticketmaster
There are 2 promo codes:
FREEPASS (gives you a FREE child ticket when you buy one in the UPPER LEVEL)= $24.55 with fees ($12.28 each but UPPER LEVEL seats) upper level is general admission seating
FREEPASS (gives you a buy one get one HALF off ticket in LOWER LEVEL) = $46.13 with fees ($23.06 each LOWER LEVEL) Lower level is RESERVED seating
So if you want to sit in the LOWER LEVEL, it seems that the
GROUPON deal
of $18 each is a better deal - if you don't care where you sit, and want to sit up higher, than the FREEPASS promo code seems to be ok!
***************************************************************
OTHER INFO:
In past years, they have given away a FREE boy and girl's bicycle at EVERY performance - simply enter to win by buying a program - MY DAUGHTER WON last year! I always thought it was "rigged" but we went home with a FREE bike!
Also - 1 hour before the show you can go on the floor and ride horses/elephants, etc...there is a fee so keep that in mind If you want to show up early (you can also do again at intermission)
You can buy toys, etc - I find they seem to show up after intermission with different toys - so try to convince your child to wait until the second half to make sure they pick the "perfect" toy...
The Shrine Circus is for a good cause and ticket prices are reasonable low, so they do have many other things going on at a cost...but overall the show is FUN and my kids loved it!
More info on the show itself can be found
HERE
****************************************************************************
If you like these deals, make sure to like

TIFFS DEALS

on facebook for more great deals!
This post may contain affiliate links